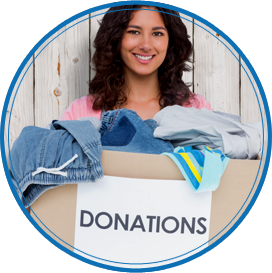 How To Donate
Your donations create jobs!
Need to schedule a pick-up?
Plan a clothing drive at your job, church, or school?
Want a donation bin for your clothing drive?
Need other information?
Call RewearAble (516) 822-2099
RewearAble will pick up all donations or you can easily drop off your donations at our facility, 837 South Oyster Bay Road, Bethpage, NY.
RewearAble accepts the following items, from babies to adults:
Clothes
Shoes
Handbags
Bedding
Belts
Towels
Coats, hats, scarfs, and gloves
Household items - tablecloths (cloth), cloth napkin and placemats
Bathing suits, coverups and baseball hats
Please note, RewearAble does not accept furniture, electronics, books, appliances, cookware or any breakable items such as china sets. We are longer accepting toys, stuffed animals or games.
Donation bags are only being provided in New York State
To Schedule A Pickup
For pickups outside this area, please call (516) 822-2099
For inquiries & to schedule a pickup
Call: (516) 822-2099 ( or )
eMail: info@rewearable.org
Your donation does more than help you clean out your closet. By donating to RewearAble, you are creating employment opportunities for adults with developmental disabilities, keeping the environment clean, and supporting the mission of ACLD.
RewearAble directly supports the mission of ACLD to provide opportunities for children and adults with autism, learning and developmental disabilities to pursue enviable lives, promote independence and foster supportive relationships within the community.
For more information, or to make a donation to the ACLD Foundation CLICK HERE or please call (516) 822-0028, ext. 104.