How To Donate
RewearAble directly supports the mission of ACLD to provide opportunities for children and adults with autism, learning and developmental disabilities to pursue enviable lives, promote independence and foster supportive relationships within the community. Thus, your donation does far more than help you clean out your closet; it also makes a tremendous difference for people with special needs.
RewearAble is in need of clothing, shoes, accessories, bedding, and other household textiles, towels, toys, purses, non-breakable household goods, even rags, in any condition.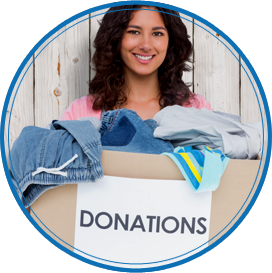 To schedule a pick-up, to plan a clothing drive or to get more information, call RewearAble at 516-822-2099. RewearAble will pick up any amount of items you can contribute. Items can also be dropped off at our facility located at: 837 South Oyster Bay Road, Bethpage, NY.
Your gift to the ACLD Foundation supports children and adults with autism, learning and other developmental disabilities to pursue an enviable life. RewearAble is committed to helping people with developmental disabilities pursue enviable lives through employment opportunities. For more information or to make a donation to the ACLD Foundation
CLICK HERE or please call (516) 822-0028, ext. 104